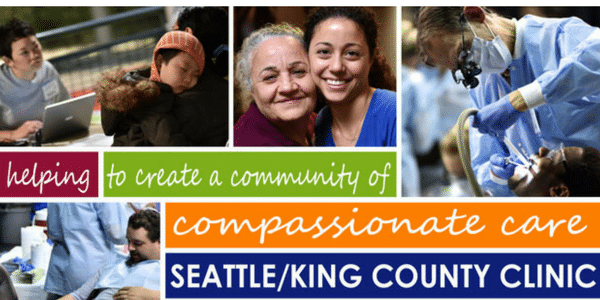 Recently two of our dentists volunteered their time with the Seattle/King County Clinic to help the underserved and vulnerable populations in our local region.
Who are the Seattle/King County Clinic?
The Seattle/King County (SKC) Clinic brings together healthcare organizations, civic agencies, non-profits, private businesses and volunteers from across the State of Washington to produce a giant free health clinic in Key Arena at Seattle Center.
Who benefits?
The four-day volunteer-driven clinic provides a full range of free dental, vision and medical care to help the underserved and vulnerable populations in our area. The only qualification for service is that a person waits their turn in line to get a free admission ticket at the beginning of each Clinic day.
How is it funded and staffed?
Seattle Center, the Clinic's non-profit fiscal agent Seattle Center Foundation and Clinic partners collaborate to raise the money and resources needed to produce the Clinic. The Clinic can provide more than $3.5 million in care to patients.
All of the healthcare practitioners at the Clinic are volunteers, and they provide theirservices without compensation.

What was accomplished in four days?
A lot! This is what happens when a community comes together to care for one another! Here are some of the satisfying results:
Total patients – 4,492
Total value of services – $3.94M
Total volunteers during the four clinic days – 3,947
Dental – 2,485 patients; $2.06M
Medical – 2,830 patients; $1.24M
Vision – 1,373 patients; $642,000
Two members of our team, Dr. Ani Vulpoi, and Dr. Kevin Suzuki helped the dental clinic serve 2230 patients with fillings, cleanings, extractions, root canals, crowns, and partial dentures at no cost. It was gratifying to see these people get the medical help they needed and heart warming to get their hugs of gratitude.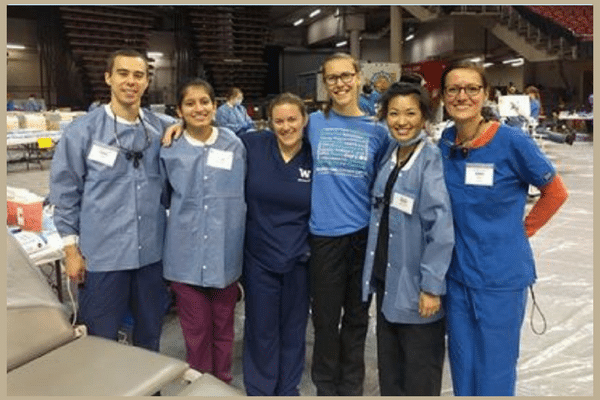 "It is such a great feeling to be able to volunteer & provide services at no cost to help others in our communities."
Do you need help or can you help others?
If you would like to help the SKC Clinic, you can make a donation or fill out a volunteer form on their website. If you are someone who could use the services of the SCK Clinic, the next Clinic is scheduled for October 26 – 29, 2017.
Crisafulli Dental was happy to be a part of this wonderful event and to be counted among the many talented, compassionate professionals who volunteered their time and skills.
If you need dental care by a compassionate and skillful team call the office of our dentist in Bothell at (425) 483-5833 or contact us online.