Say "goodbye!" to anxiety with sedation dentistry! Ask Dr. Crisafulli if sedation is right for you.
Sedation Dentistry
Envision a dental experience so relaxed you have little-to-no memory of it! Offered by Dr. Crisafulli in Bothell, sedation dentistry makes this experience a reality for many patients. Our compassionate team is here to ease your anxieties and help you feel comfortable every step of the way.
Who Should Use Sedation Dentistry?
Sedation dentistry is the perfect solution for anyone who:
Has moderate to severe dental anxiety
Has difficulty getting numb or a fear of needles
Requires several treatments during a single visit
Will be enduring a treatment lasting longer than 3 hours
What Kinds of Sedation Do We Use?
Dr. Crisafulli offers several methods of sedation. During your consultation, she will discuss the areas of treatment you are concerned with, and which method of sedation will provide you the best experience.
Nitrous oxide: This treatment also known as "laughing gas" is light sedation. It's inhaled through a mask and both acts and wears off quickly. Your doctor controls the amount needed to make you feel comfortable and generally, you are able to drive yourself home after a procedure.
Oral medication: light to moderate sedation. A small pill is taken about an hour before your procedure that makes you feel drowsy although you are still conscious. Generally, little is remembered by the patient about the procedure afterward and someone else should drive you home.
Still have questions about the methods we use for sedation? You can find out more about these different kinds of sedation and how they work by downloading our Free eBook.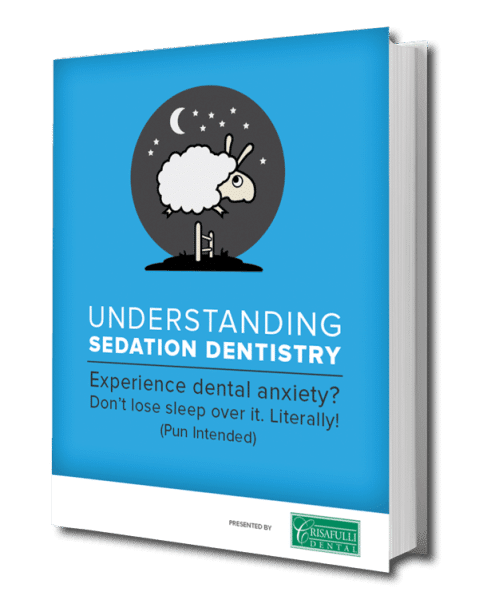 Our compassionate team is here to help you feel confident, secure, and safe—especially if you have a history of scary dental visits or feeling anxious. For more information about sedation dentistry in our Bothell office, contact Crisafulli Dental today.
Crisafulli Dental offers a wide range of dental services that include Bothell sedation dentistry for the Seattle and Woodinville, WA, areas.