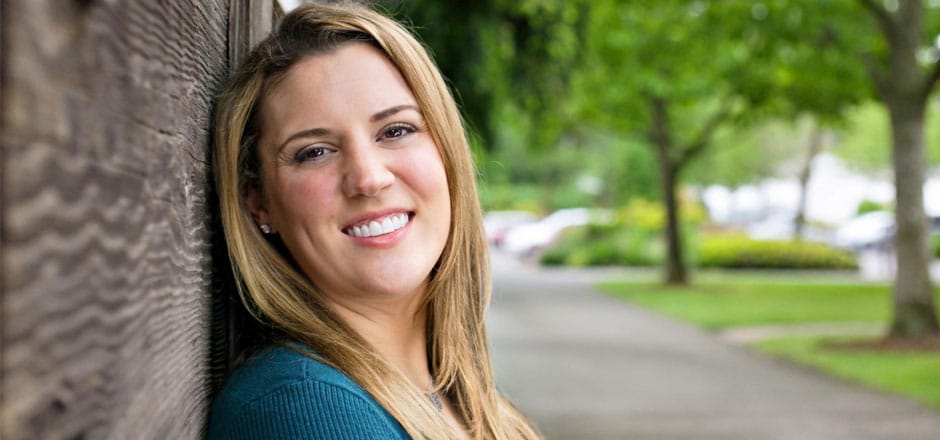 " width="940″ height="440″ class="aligncenter size-full wp-image-1333″ />
Curious how porcelain veneers could transform your smile? Contact us to learn more!
Porcelain Veneers
Wouldn't it be great if you could repair years of damage to your teeth, and restore self-confidence in as little as a few weeks? Porcelain veneer by Bothell dentist, Wendy Crisafulli, make it possible to do just that. If chips, cracks, spaces, or discoloration of your teeth have left you embarrassed of your smile, porcelain veneers may be the solution for you!
Customized to Your Unique Smile
We don't believe in one-size-fits-all dentistry. Before deciding to place porcelain veneer, our team carefully evaluates the areas of your smile you are unhappy with. During an initial exam and consultation, we take the time to discuss your goals, take photos and impressions, and perform a full evaluation of your face and smile features. Your photos and impressions are then sent to a dental lab for creation and will be ready to be placed at the following appointment. In the meantime, temporary veneers are placed so you can test-drive your new smile.
It's important to us each porcelain veneer case is of the highest quality. We work closely with an exceptional, local dental lab that uses only the best materials available. Through our collaborative artistry, porcelain veneers provide amazing smile makeovers that can last for ages.
Solutions to Ease Anxiety
We understand some people are anxious about visiting the dentist, even when the goal of treatment is to make your smile more beautiful. For our patients who are nervous about any treatment provided in our office, we proudly offer the latest in sedation dentistry.
We believe everyone deserves to have a smile worth showing off! To learn more about our cosmetic services, including porcelain veneers, our Bothell dental professionals are eager to help. Contact Crisafulli Dental to schedule your consultation today!
Crisafulli Dental offers a wide range of dental services that include porcelain veneers and other cosmetic dentistry procedure in Bothell for the Seattle and Woodinville, WA, areas.