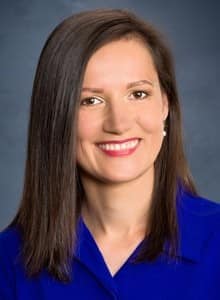 Dr. Ani Vulpoi received her Doctorate of Dental Surgery and her bachelor degree in Biology from the University of Washington. Prior to becoming a dentist, Dr. Vulpoi was trained and worked as a dental technician for seven years, creating beautiful and natural looking crowns, bridges, implants, and veneers. Because of her prior training, what she enjoys most about dentistry is applying her artistic and technical talent to recreate natural looking smiles for her patients.
Passing Her Skills on to the Next Generation
Dr. Vulpoi graduated in the top 10 of her class, is a member of the Omicron Kappa Upsilon (OKU) National Dental Honor Society, and was awarded numerous prestigious awards and scholarships during her education. While pursuing her doctorate, Dr. Vulpoi volunteered both as a teaching assistant – contributing to the education of her peers – and as a mentor to underprivileged high school students, encouraging them to pursue higher education. Dr. Vulpoi is continuing her association to the University of Washington School of Dentistry as an affiliate faculty.
When she is not in the office, you may find her biking on the Burke-Gilman trail, hiking in the Cascade Mountains, exploring the farmer markets around Seattle, or at a pick-your-own farm stocking up on berries to make her own preserves.